To get a feel for of the lay of the land, I went to visit the property a few weeks ago… Being my first visit to Old North, I was pleasantly surprised!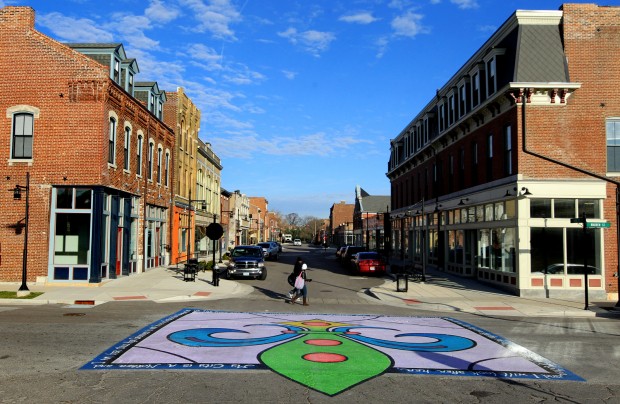 Old North St. Louis – Recipient of National Smart Growth Achievement Award by the EPA.
Just adjacent to the property was the Old North business district, a walking-town with shops like clothing stores, an art gallery, a hairdresser, and other shops.  I stopped by the La Mancha Coffeehouse a few blocks away and got a good cup of coffee before my early-morning visit.
After the initial site visit, we made another visit last weekend to assess the site in greater detail after the initial ground-work was performed with an excavator.  While on-site, we had to think about the basics like our power source, electrodes, and system layout, while considering the differences between what would be installed on private property compared to the system needs when in a public space.  These differences included more things to think about than I initially expected.
Things such as:
Safety concerns – how to design the system so no one will accidentally fall and hurt themselves on our equipment.
Electric field concerns – we want to keep the field constrained so the whole plot doesn't turn into part of the experiment.
Seasonal concerns – how will we handle the change of seasons; specifically, changing crops between summer sunflowers and winter wheat? Do we want to design for change up-front or deal with things later?
Etc.
We started off by making a second visit to the site during last weekend's work-day and started making an assessment of the electrical characteristics of the soil.
We also figured out our plan of attack for getting electrodes installed in such a way that we weren't going to be disturbing the seedlings that were going to be installed. Here's the electrode installation plan:
Lastly, we started looking into installation ideas regarding our webcam and other electronics.
Since we're planning on including a real-time data-feed, we started asking around for people and places that may be open to sharing their WiFi/internet connection with us. (If you're within range of the site and are interested in sharing, drop me a note!).
Anyhow, this coming Saturday is supposed to be the ground-breaking ceremony for all of the teams. If you come on over to the site and see me, flag me down and I'd be happy to answer any questions you may have.
That's all for now – till next time…
Related articles